Roll over or click image to zoom in
Available offers
Shop Above Rs. 699 and get Micellar water Insta Glow free
Additional 5% discounts on all orders of 600+
Flat 25% discount on selected combos
Free Shipping on orders above ₹500
customers are viewing this product
Key Features
Introducing Aaryanveda Unisex Sunscreen SPF 40 for Women & Men with PA+++, the perfect solution to protect your skin from harmful UV rays. This lightweight sunscreen is enriched with natural ingredients that nourish and moisturize the skin while providing broad-spectrum protection.

Benefits :

•Provides broad-spectrum protection from UVA and UVB rays.
•Prevents tanning and sunburn.
•Nourishes and moisturizes the skin.
•Lightweight and non-greasy formula.

How we are Different:
•Enriched with natural ingredients.
•Suitable for all skin types.
•Unisex formula suitable for both men and women.
•PA+++ rating for superior UVA protection.

How to Use
• Apply AaryanVeda Cosmeceuticals' Sunscreen Cream SPF-40 PA +++ generously before sun exposure.
• Spread evenly across the face, neck and body.
• Use it 15 minutes prior going out in sun.Use every day for consistent results .
• Reapply frequently (every 2 hours), especially after sweating, swimming or towel drying.

AaryanVeda Cosmeceuticals' Sunscreen Cream SPF-40 PA +++ provides high protection against harmful UVA/UVB rays while nourishing and hydrating the skin. Its lightweight formula is suitable for all skin types.
Customer Reviews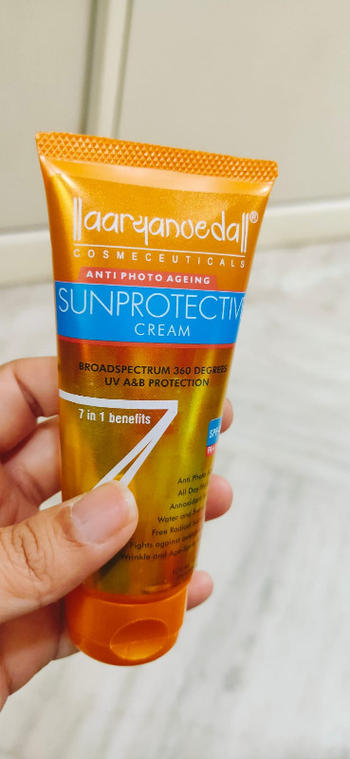 03/17/2023
SPF-40 PA+++
Truly amazing and light weight Creamy texture spf 40 . Gives all day hydration and glow to my skin with Water and sweat proof in summer season . Just give it a try!
03/17/2023
Worth Buying
Value of Money .
03/17/2023
Good One
Aryanveda spf 40 is very good. Creamy texture with fragrance i really like it.